Today, I took on bookcase transformation number two and added a skirt to create some hidden storage on the bottom shelves off my two tall bookcases. That little change took them from looking like this:
Bookcase makeover
phase one
.
To this:
Pleats, plus drop cloth, plus lots of hidden places to stash junk = lots 'o love!
Here's how you can make your own:
First, round up some heavy ribbon cut to the width of your bookcase, Stop Fray to keep the ends of the ribbon from becoming, well, frayed, a prewashed drop cloth with hems, and some decorative nails or nailhead trim. You'll also need pins and a sewing machine.
Start by folding the drop cloth in half to form a long rectangle with hemmed edges on three sides. Cut through the fold to create two rectangles with hems on three sides.
Measure the length of your bookcase and add an inch for seam allowance, for me this was 4 inches. Cut the rectangles to this length, fold the cut edge over twice, and pin to form a hem.
Sew the pinned hems on both rectangles.
Now, find and mark the center of your ribbon and pin each rectangle on either side of the mark. Also pin to each end of the ribbon.
Here comes the fun part! Decide how you'd like your pleat. I went for three skinny pleats and two large pleats on each side of the ribbon.
Pin the pleats in place and sew.
Finally, use decorative nails or nailhead trim to secure your skirt to the bookcase.
One of my favorite things about this project is that it came in at less than ten bucks!
I love that the skirt is feminine in shape but masculine in texture and hardware.
Have you made anything out of drop cloths?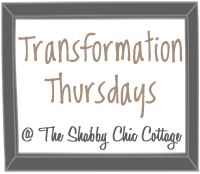 I'm linking this to
Gina's
!
<3
Hattie