So, it's not quite sweater weather outside, but inside my library, meat locker temperatures are the norm; hence, my love of cardigans. Even though I'm a huge fan, I only own three solid colored cardigans – which I wear over and over and over again. However, I do have several regular sweaters that I rarely wear, so I decided to convert one into a cardigan.
That's how this slightly too small and too short sweater,
Became this fun cardigan (I'm not sure if it really counts as a cardigan without buttons, but you know what I mean!)
I started by cutting straight down the middle of the front of the sweater.
I folded the raw edge under, pinned, and sewed.
Then came the time to add some fun! I originally wanted to add ruffles, but I didn't have any matching fabric on hand. But I did have tons of matching ribbon.
So I proceeded to spend what seemed like two hours pinning the ribbon into pleats. I seriously thought I was going to run out of pins! It only took a few minutes to sew the pleats to the sweater, so I think it was worth the time.
I can wear the sweater open
Or tied with a little ribbon belt.
Other than the time spent pleating, this was a very quick and easy project!
Any other major sweater fans out there? Anyone else have a super cold workplace?
Linking to this
awesome party!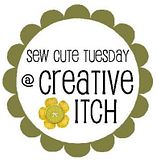 <3
Hattie