Remember my precarious pile of furniture and accessories?

These beauties in the rough just needed a little TLC and paint to provide just the right touch of fun and storage for the craft room/office makeover.
First up, the only new piece of furniture in the pile, a pine IKEA dresser.
This piece had quite a few knots, so I gave it three coats of Zinsser primer and two coats of American Accents semi-gloss white. It fits perfectly under the IKEA work table and will hold my ever growing fabric stash! I'm still deciding if I want to stencil something fun on the knobs - maybe numbers or flowers?
Buried under all the "stuff" (which will be spread out once three other shelves are hung on the wall) is the little shelf that could. This shelf survived my college bathroom and my brother's college bathroom.
The finish was in pretty bad shape, so it also received several coats of Zinsser and two coats of American Accents.
I found this spice rack at the Goodwill outlet. It was already a dingy white.
I mixed two blue shades of Folk Art acrylic paint to get the perfect aqua. It took three coats to cover this little guy.
I picked up this balsa wood shelf with baskets at Michael's several years ago.
I also gave it several coats of my aqua paint.
Once the paint dried, I used mod podge to jazz it up with a little scrapbook paper.
This grungy pizza pan received a good scrubbing, and a light coat of RustOleum metal spray primer.
After the primer dried, I applied three coats of Folk Art pumpkin acrylic paint to turn the ugly pan into a funky magnet board.
Finally, this mini set of drawers went from ho, ho, ho
To sweet and pretty,
To a new makeover with aqua sides and orange feet.
So, what's left to do in the office? Hang shelves and art, arrange everything, and recover the seats on the two chairs. It's coming along!
I'm linking this to
Wendy's lovely party
!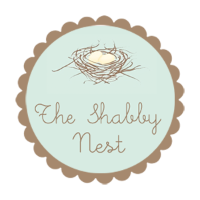 <3
Hattie