I spotted this cardigan at Banana Republic a few weeks ago.
However, I've been needing a new long sleeved white cardigan and I had this old H&M sweater hanging in my closet.
It didn't take me long to spirit the sweater off to my sewing room and start reconstructing it into something more fun. I cut straight up the middle, folded the edges under, pinned, and sewed.
Next, I chose fabric for my ruffles. I like the two-tone look the original has, but I wanted to be able to wear this cardigan with a lot of different outfits, so I went for a monochromatic look.
I created my ruffles from a white t-shirt, a sheer cream scarf, and the white fabric from the inside of a necktie. I simply pinned the ruffles to the sweater and sewed them down.
I think my version is a bit fluffier than the original, but I'm pretty happy with it.
I may sew on a button closure, but for now, I love using a sweet little earing to cinch the cardigan together.
It also looks pretty cute belted.
Let me know if you make your own ruffled cardigan, I'd love to see it!
I'm linking to
Wendy's party!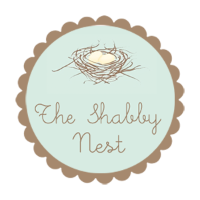 <3
Hattie