Remember the J. Crew skirt I ogled from afar?
Well, I took advantage of the long weekend to create my own knock-off version.
I can't wait for the weather to cool off a bit so I can wear it!
I used a skirt I already had to create this version, but I plan to also make one from scratch.
My existing skirt was A-line, below knee length, and had a high waist. It was also lined.
I started by deciding how short I wanted the finished skirt to be, then I cut off the top of the skirt to that length.
Next, I turned the skirt inside out, pinned the lining to the top edge of the skirt, and sewed.
After that, I flipped the skirt back to normal with the pretty side of the fabric facing out and the lining on the inside. I pinned very close to the top edge of the fabric and topstitched all around.
Next, I topstitched twice more at equal intervals.
This created two pockets to hold elastic for the waistband. I used my seam ripper to make small slits in each pocket, and used a safety pin to thread the elastic through. I cut each strip of elastic to a length slightly smaller than my natural waist.
Once the ends of the elastic are sewn together, they create a cute ruffled waistband like this.
I think I like my free version just as much as the 80 buck store version!
Here's how it looks on:
What styles are you planning to knock off this season?
Linking to the
Creative Itch
!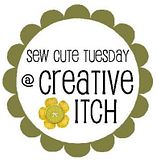 And the
Train to Crazy
!
<3
Hattie