Yesterday, I checked another item off my to-do list and finished up my gallery wall project.
Remember what the wall looked like before?
Here's the big after!
I like it so much better! Let's take a look at how the frames went from mismatched to beachy!
Before – serious looking black:
After – perfectly shabby white:
Before – dated roses:
After – beachy blue:
Before – yellowed white:
After – fresh and crisp:
Before - pale blue with a few chips:
After- Lovely darker blue:
Before – very fancy silver:
After – Beach cottage white with a fun mat:
Before – no frames:
After – dollar tree frames with a two coats of blue paint:
Before I went putting nail holes in the wall, I played around with some ideas for how I wanted to arrange the frames. I changed this arrangement slightly to work with some nails that were already in the wall.
I'm so happy I made this simple change! It only cost me two bucks, and it ties the hallway to the living room. An added bonus is how much more roomy the stairway feels without those shelves jutting out.
Are you putting off a simple change that will make a big difference? – Go do something about it! You'll be glad you did!
I'm joining
Frugal Friday
@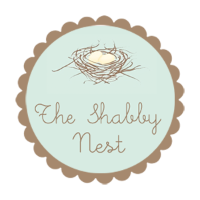 <3
Hattie