Operation bookcase clean-up has made for a couple of busy days around the roost! I'm about halfway through this massive and very dusty project, and the shelves are starting to look the way I envisioned. Because everyone loves a good before and after, let's take a look back at the living room before I got myself into this mess:
Big bookcases – love the newspaper baskets; really don't like the big shelf full of board games. Note the typewriter table beside the sofa - I've never been crazy about this table, but it fit well in the space.
Ugly brown bookcases beside the sofa and on the steps.
White bookcase full of children's books.
Here's how things look now, after moving nearly every book and
painting the brown bookcases
:
The view from the top of the steps. I switched the typewriter table for one of the freshly painted bookcases.
The shelves hold tissues, the remote basket, and our newly
organized CD boxes
. I filled a wire basket with mini pool balls and croquet balls and used our digital photo frame to hide one of the surround sound speakers.
On the other side of the sofa, I switched out a bookcase for the $12 end table we picked up a few weeks ago. I'm really not sure how/if I should accessorize this table – suggestions please!
The other white bookcase went back on the stairs.
I'm thankful the big bookcases came with adjustable shelves, because I moved nearly all of them!
While the top two shelves on each side are pretty much done, I have a lot of work to do on the lower shelves. The plan is to make 12 more newspaper baskets to hold the rest of our DVDs and paperback books. I also plan to use a drop cloth and nail head trim to make a skirt to hide the large bottom shelves. Those board games and paperbacks will finally be hidden from view!
I removed the dust jackets from all my hardback books and arranged them by color.
I'm really pleased with how these two shelves came out!
On this side, I plan to make the racquet press into a frame.
Finally, I rearranged some of the books on the other bookcase as well.
I love that after three years all of my bookcases finally match!
I still have a lot of work to do, but it's nice to see things starting to take shape.
Have you tackled any big projects this summer?
Linking to the fun at
Gina's
!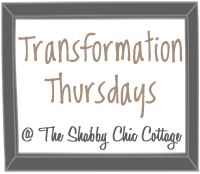 <3
Hattie