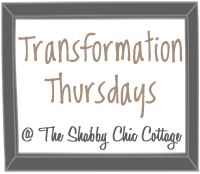 Remember this hot mess?
I'm happy to say it has a whole new look that didn't cost a penny. It just took some creative rearranging, a little purging of unneeded items (why was I keeping a lip pencil bought out of guilt at a makeup party freshmen year of college? I have no idea), and putting some pretty birthday gifts to use.
Although this nook is super tiny, about four foot by four foot with a seven foot ceiling, it needed to multitask big time. The dresser had to stay, because there is simply no other place in our bedroom to put it. My other requirements were a place to store hair care items, makeup, skin care products, medicine, jewelry, accessories, and my most worn shoes. On top of that, it needed to provide a place to hang up an outfit or two because I'm one of those annoying people who must lay out her outfit the night before – not out of any neat-freakness, but out of the joy of sleeping in ten extra minutes.
My first step was to move the ugly plastic bin beside the dresser. I got rid of a lot of the junk stored in there, and managed to squeeze it into our tiny closet. With the bin gone, I was able to center the dresser in the nook. It instantly felt less cluttered!
Next, I took everything off the top of the dresser and pretty ruthlessly said goodbye to many outdated beauty products and accessories. I decided if it didn't fit in my train case or basket it had to go.
I also decided to continue to use my pretty blue pail as an easy way to corral all my brushes and styling tools.
My birthday ceramic egg crate holds pins and earrings.
Necklaces and bracelets went into my newly created
jewelry organizer
.
My parents gave me this vintage plant hanger for my birthday and it's perfect for holding a few hangers worth of clothing.
A hobnail vase that reminds me of coral is just the right size to hold bobby pins.
After I moved the dresser, I decided I liked the off-centered look of the mirror, so I quickly threw together a tiny nautical shadowbox to add balance. Tutorial coming soon!
I love that this little space is so hardworking, but I still have one little conundrum – how to light it.
I've been using this clip on light (it's hiding right behind the blue pail) for years because it fits easily into the small space. But – I'm not crazy about the way it looks.
I could switch it out for this globe lamp from IKEA,
However, it doesn't put out much light at all and I feel like it crowds the dresser.
Do you have a preference or any suggestion for ways to light cramped spaces?
<3
Hattie