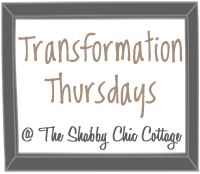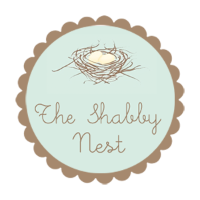 With an "apologie" to one of my favorite stores, I must admit that this necklace is a knock off, except my version is blue instead of bronze and cost about $2 rather than $48. Not a bad way to transform some crafty scraps!
I'm calling it the morning glory necklace because the blue fabric embellishments remind me of closed morning glories.
If you'd like to make your own knock off you will need: beads, beading wire, ribbon or twill tape, and three small fabric scraps.
I got a little creative in procuring my beads and used a cheap and broken pearl necklace and these old earrings.
I cut a length of wire about ten inches long and filled about six inches of it with beads.
That left me with about two extra inches of wire on each end. I looped the wire through the last bead on each end to secure everything.
Next, I cut two lengths of twill tape, each about twelve inches long.
I tied each piece of twill tape around the last bead on each end of the wire, and wrapped the rest of the wire around the tape.
Next I cut three vaguely rectangular scraps of knit fabric, about three inches by two inches.
I bunched each one around the twill tape until I liked the shape, and then used a few inches of wire to wrap it tightly to the tape. You could also sew the fabric on, if that's easier for you.
Instead of a clasp, I just tied the ends of the twill tape into a bow.
It's simple, asymmetrical, and feminine without being too fluffy!
It's also super fun to wear!
By sure to check out all the other wonderful projects at
Gina's
and
Wendy'
s !
<3
Hattie