Andrea
sent me such a sweet invite to her party, so I'm join this one as well!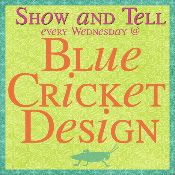 It's time for a little
show and tell
with Blue Cricket Designs!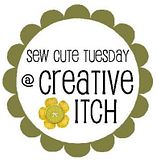 into something fun and new!
To start, I cut a big rectangle out of the back of the shirt. You could also just use any cotton fabric.
Next, I cut the rectangle to make two square-ish pieces, one slightly shorter than the other.
Remember, one side of the tube should be shorter than the other; this will form the back of the tank.
Fold over the taller side of the tank twice, pin, and sew to form a finished edge.
After this, pleat and pin the tall side (front) of the shirt. Try the tube on to see if the top fits. If it seems just a bit snug, you can use elastic thread to allow for a little give in the pleats when taking the top on and off. If it's way to snug or loose, adjust the size of your pleats until you find a happy medium. I got lucky and had a perfect fit on the first try.
Sew across your pleats along the same line as the hem of your finished top edge.
Now, pin and hem the bottom edge of the shirt. You want it to end right above your hips.
Cut the bottom off of a knit t-shirt that fits you well. Fold over the edge of this shirt and pin to the hem of your tube.
This is what it should look like after you sew all the way around:
I used white thread because
I was too lazy to rethread the machine
for contrast.
Now, you also want to finish the back edge of your top. I could have just folded the fabric over and hemmed, but I wanted to add a little more of the t-shirt color.
To do this, I cut a strip from the t-shirt about an inch wide, and as long as the back of the shirt. I folded the t-shirt material over the raw edge, pinned, and sewed.
For the straps, I cut two more strips from the t-shirt. I sewed them to the front edges of the shirt, twisted a few times,
Done! This is a very comfy shirt to wear on a hot day.
You can dress it up by belting it with another strip of t-shirt fabric
Or just let it be light and breezy.
My sister has already requested that I make her one too!
Happy sewing!
<3
Hattie