I have three confessions: 1. I have a serious thing for vintage metal sign letters.
Look at all that chippy goodness.
I would put this in my kitchen tomorrow.
You know I want the "H."
If I could dig through a pile like this, I'd be a happy camper.
2. I've gotten impatient about finding the letter I want - "S" - in the color I want - blue, yellow, or red – in the size I want – 12 inches or smaller.
3. Even if I find the magic letter, I'm fairly certain it would cost more than I'm willing to spend. In case you haven't figured it out, this girl is cheap when it comes to her vintage finds!
So, I decided to fake it.
First, I picked up a white woodish letter "s" at Ben Franklin. It was only a few bucks.
Next, I sanded it a bit and gave it two coats of metallic silver spray paint.
I let that dry for an hour, and then mixed up a beachy blue/grey/green using my acrylic paints.
After two coats dried, it looked like this.
Now for the fun - beating it up and making it all chippy!
First, I took a sanding block to it. This gave me some scratchy streaks and let some of the silver paint show through. I also sanded all the edges fairly well.
After this, I took a wet paper towel and wiped a few spots with a fair amount of pressure.
I think this is going to look awesome on the gallery wall I have planned for the stairwell!
Have you ever faked a vintage find?
I'm linking this to: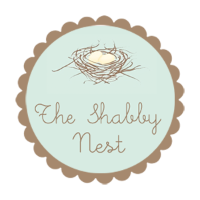 <3
Hattie