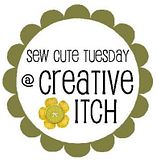 that became a dress,
that became a skirt.
It all started with this very large, big and tall men's dress shirt.
First, I cut off the sleeves and removed the pocket.
Next, I turned the shirt inside out and pinned both sides from the arm pits to the hem so that the shirt fit comfortably around my hips, but was a bit blousy in the waist and bust.
I sewed up the sides and tried the shirt/dress on. I experimented with belting the waist and like the direction things were heading.
My husband didn't like the shirttail hem, so I decided to give the dress an even hem all the way around.
The dress looks pretty shapeless on the hanger, but I tried it on and belted it. It looked so cute! Very vintage waitress-y. But short. Very short. I raised my hands above my head, and hello! OK, so this dress idea was not going to work.
Side note, if you have a pre-teen daughter this would probably make a very cute dress for her!
Plan B. I cut a straight line from arm pit to arm pit. I folded the fabric over twice, pinned, and sewed to create a deep hem/casing for elastic.
That gave me this simple skirt. Comfy, but nothing special.
However, I discovered I could easily fake the look of a paper bag skirt. I pulled on the skirt, folded the elastic band over towards the inside of the skirt. Then I sort of poofed the fabric and tied it with a sash.
Ta-da an instant paper bag skirt.
When to comes to sewing, all you can do it keep trying until you hit on something you like!
<3
Hattie