It's Frugal Friday @ the Shabby Nest!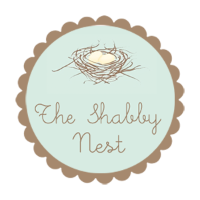 I love the look of shadow boxes, but I'm not big on how pricy they can get. So, when I made over my
dresser nook
, I decided it was the perfect time to try my hand at faking the shadow box look.
I love how it came out because it looks great, was super cheap, and was easily accomplished during an episode of Glee. If you would also like to cheat your way to a cute shadow box you will need:
- A box lid. Mine is from one of those brown paper boxes you can pick up for a buck or so at a craft store. I love that mine has wavy edges, but straight edges would look nice and sleek as well.
- Tissue paper, wrapping paper, or fabric
- A fun image. I suggest something botanical or beachy.
- Twine
- Mod podge.
Step one: paint your box if you want. I really liked the brown, and I wanted to finish this quickly, so I left things alone.
Step two: cut your tissue paper to fit inside the lid. I used two layers to get the color I wanted.
Step Three: paint the inside of the lid with mod podge and carefully place your first tissue paper layer on top. If you want a crinkly look like I did, only wait a minute or so before adding more mod podge and the next sheet of tissue paper. Let dry for fifteen minutes.
Step Four: Apply a thin layer of mod podge to the back of your artwork and smooth on top of the tissue paper. Let dry for fifteen more minutes and add a top coat of mod podge over everything.
Step five: while that's drying, cut twine to fit the inside edges of the box. Coat with clear glue and press into place.
A few suggestions for hanging your box: glue a loop of twine to the back, glue on a saw tooth hanger, or use command adhesive.
If you want to be slightly less lazy than me, you could make an even cooler shadow box by glueing cork to the inside of the box lid and attaching little doodads with stick pins.
Oh, the possibilities of a box lid! What's your favorite household item that's just begging for a crafty alter ego?
<3
Hattie