For some reason I've been on a crazy nautical kick this summer. So when I spotted a remnant of striped jersey knit fabric at the fabric store, I had to have it. I was thinking summer tank, but I wanted to add a little something extra to it to put a twist on the nautical look.
I found this awesome floral fabric (actually a girl's dress) in my Goodwill fabric stash, and the stripes + floral summer tank was born.
This is a seriously easy tank to whip together in an hour or so, and it's a great stash buster as well.
To start, cut two rectangles of knit fabric. You want them to be as long as your favorite summer tank, plus 4 inches and as wide as your favorite summer tank plus 6 to 8 inches depending on how baggie you want the tank to be.
Fold the top edge of each rectangle down two to three inches, pin, and sew. This will create the pocket to hold your straps/ties.
Take a long strip of fabric five inches wide and a yard long (or longer) and fold in half lengthwise with the right sides together. Pin, sew, and turn right side out. This will be your straps/ties so you might want to angle the ends. I tied my straps in a small bow, so this length worked out fine for me. If you want a flouncy bow, you will want a longer strip of fabric.
Thread the long strip of fabric through the pockets at the tops of your knit rectangles. Use your favorite tank as a guide for how long to make the straps, but also try this on as well.
Once your straps are the right length, tie the extra fabric in a bow.
You will also need to pin and sew the sides of your tank closed. I pinned and sewed about four inches from the top of the tank, but this will vary by body type, so make sure you try the tank on after you've pinned but before you've sewed everything up.
After the sides are done, you can also hem the bottom edge of the shirt. Knit doesn't unravel, so I decided to keep my bottom edges raw.
That's it!
I decided that I really like mine belted for a more tailored look, but it also looks great loose.
I love the way it drapes in the back.
What do you think? Mixing stripes and florals - good idea or fashion faux pas?
Linking to these parties: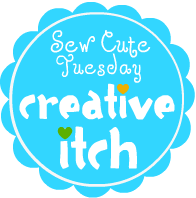 <3
Hattie