Wanna make a super easy fall arrangement that doesn't seem out of place with beachy décor?
Step one: Find a super cool basket. It you can't find one in a great blue/green, scour thrift stores for a basket with a great shape and take some spray paint to it.
Step two: stuff the basket with crumpled newspaper and top with scraps of linen or drop cloth fabric.
Step three: top with lovely heirloom pumpkins and gourds. I found mine at the flea market, but I've also seen them at Trader Joe's.
Step four: fill in any empty spots with faux greenery and leaves from the dollar store.
Easy Peasy!
What's your favorite quick and simple decorating trick?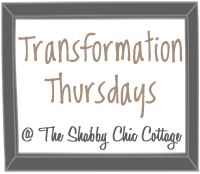 Linking to the awesome at
Gina's
!
<3
Hattie